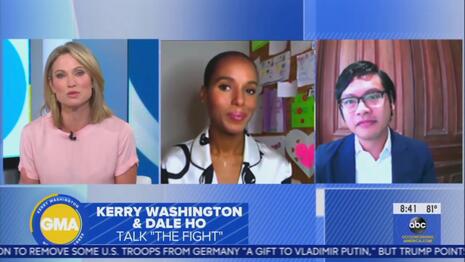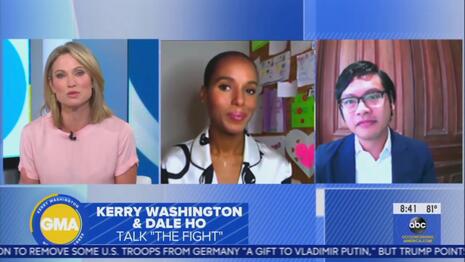 Whereas regulation enforcement officers defending cities from anarchists are smeared as Nazis by the media, the radically anti-Christian, anti-science, terrorist-defending activists on the ACLU had been hailed as America's actual "heroes" on ABC's Good Morning America as we speak. Sure, actually!
As if the ACLU hasn't had sufficient cash and clout handed to them by Hollywood and the media, ABC hung out gushing over a brand new documentary on the left-wing group referred to as The Struggle, produced by Scandal star Kerry Washington.
Co-anchor Amy Robach fawned over the behind the scenes take a look at courtroom instances calling it "fascinating." She requested Washington, who was there together with ACLU lawyer Dale Ho, who stars within the movie, to share what viewers will "take away" from the anti-Trump administration film.
Washington bubbled over with enthusiasm for the authorized group that's hell-bent on stopping Catholic hospitals and Christian charities from serving to individuals. She gushed they had been our real-life superheroes or Avengers "within the trenches" combating for our rights towards the Trump administration:
Yeah, I imply I believe it is two-fold. I believe these guys are so inspiring. I imply you actually take a look at the final 4 years how they've been within the trenches combating for civil rights and civil liberties for each single American with assaults on our civil liberties coming from this administration and so they actually are combating this combat. They're — to me they're like our real-life "Avengers." They're actual superheroes and to see that combat is so inspiring…
The media's positive obtained a factor for calling leftists superheroes currently. Was this quip even unscripted contemplating ABC's dad or mum firm, Disney, owns Marvel?
Washington went on to share her hope all People comply with the ACLU's instance and combat for liberal causes:
That we every may as they do work out the right way to make change in our little circle of the world. It is so, so inspiring what they do and I — my hope is individuals stroll away asking themselves like how can I be part of the combat for all of us? 
George Stephanopoulos was excited. "Boy, I can't wait to look at!" he declared to shut out the interview. 
This nauseating PR phase for the ACLU was delivered to you by Toyota and Honda.